Best Modern TV Stands under $500 | Minimalist Home Furniture for Less
Finding cheap minimalist furniture that is both stylish and functional can be a challenge. If you are anything like me, a lot of your time is spent in your living room. Whether it be entertaining guests or lounging around during a movie night, having a comfortable living room that you love starts with picking the right furniture.
There are a ton of designer tv stands available today that look absolutely amazing. But is spending $2,000 on a modern tv stand really necessary? Here we explore 6 of the best modern tv stands that look great, have plenty of room for storage and are easy on the pockets. Each of these tv stands can be purchased for under $500. These modern tv stands will keep your living room looking clean, open and minimal.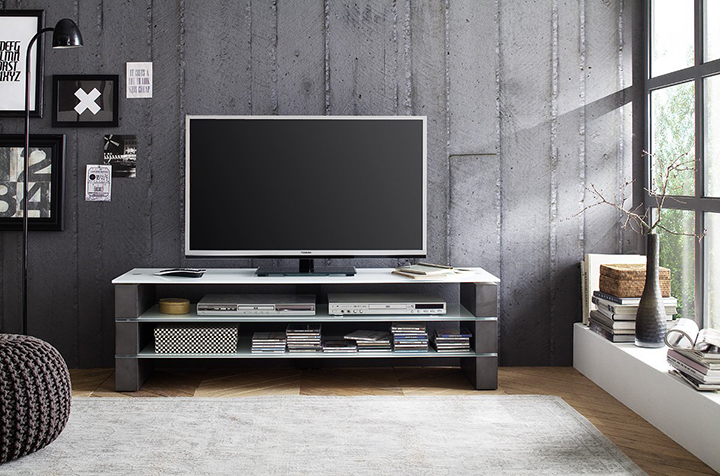 Monarch Specialties Modern TV Stand
Monarch Specialities is a brand that designs a variety of stylish and affordable home furniture. This tv stand is a sleek high gloss white that is easy to clean and looks amazing. I especially love it's clean lines and simple silhouette. It's double shelving system gives you enough room for media boxes, gaming consoles and more while still allowing it all to look sleek thanks to it's tempered glass shelves.
Milano Classic Black White TV Stand
The Milano is a tv stand for those of you with larger flat screen televisions that need something clean and simple in design. It's can fit televisions up to a whopping 70 inches. As one of the larger tv stands on this list, the Milano has plenty of storage for your media items thanks to it's double drawers and spacious middle shelf.
It's simple yet eloquent features really add to the minimalist design. The storage shelves feature push to open design and adds a much cleaner look as supposed to traditional door handles. A single LED inside the shelf illuminates the inside of the stand. This light can be turned on and off and is a nice touch to this minimalist tv stand.
Calico Studios Colorado TV Stand
The Calico Studios Colorado TV Stands is a simply designed tv stand that is clean, simple and industrial in design. It features a tempered glass top shelf for holding your television while also providing extra storage with two additional black shelves. The legs of the tv stand are silver color and it's cross design gives the tv stand a minimalist streamlined look.
The Colorado TV stand is one of the most affordable tv stands on our list and I recommend you check it out if you are looking for a minimalist tv stand without too many bells and whistles. It is available in both 47" and 56" versions depending on how large your television is. Those who prefer to hand their televisions on the wall can get away with the smaller version of the tv stand to use as a sleek and modern media console.
In recent years, the use of industrial materials such as concrete and glass have been a popular theme with contemporary home furniture design. The Olivia Concrete TV Stand allows you to achieve the same minimalist look for less.
The overall design is contemporary and very minimalist. The Olivia uses colored wood blocks to acheive the industrial concrete look. Two tempered glass middle shelves allows for plenty of storage while the top shelf can accomadate at 70 inch tv up to 88lbs.
Techlink Panorama TV Stand
The Techlink Panorama tv stand is one of my favorite tv stands on the list because of it's smart streamlined features and overall minimalist look. This modern tv stand features shelving behind IR friendly black glass doors. What you get is the ability to hid your cable box and other media boxes inside the tv stand and still have the ability to use your remotes through the glass. This feature is perfect if you love the idea of keeping your living room looking clean and uncluttered.
Monarch Specialties Modern TV Console
Monarch Specialties makes this affordable modern tv stands list for a second time with their modern TV Console. The tv stand allows for plenty of storage thanks to it's 4 drawer design accompanied by it's open shelving in the middle. Although it's packed with plenty of storage it still keeps it's sleek design with plenty of clean lines and gray on white color blocking. These understated design elements makes this a great minimalist tv stand for those who love the mid-century modern look.